On Wednesday evening this week me and my "lovers of all things vintage and handmade" friends walked to the end of
Crouch Street in Colchester. To this shop
Tea and Sympathy
A little shop that sells handmade and vintage things. They also have a beautician and other therapists and workshops. Tonight's workshop was a Vintage hair and make-up make over done by the lovely Betty from Bettys rock and rollers
Drinks were served, while we watched the demonstration
And then we were let loose to have a go............
Getting to grips with Victory Rolls
Not quite got the hang of it yet
Hair and make up complete.
A big flower finishes off the look!
My make-over, Victory Rolls, Kiss curl, eyeliner and very red lipstick!
And here we are all together, not sure what I am looking at!!
When I got home Mr HH looked and said that I looked just like Mrs Pike off the TV programme Dad's Army!!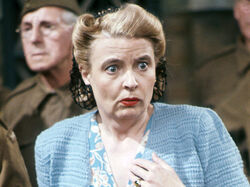 Ha Ha!!